Scholarship for Bangladeshi Students
By Your Query Staff
Published on April 2, 2021
Updated on August 18, 2022
Fellowship program by University Grants Commission of Bangladesh (UGC)
University Grants Commission of Bangladesh (UGC) is inviting applications from the candidates for Post-Doctoral Fellowship Program.
Program name: Post-Doctoral Fellowship Program
Qualification for the fellowship:
 The applicant must be a teacher from public/private university (with permanent campus) and govt. colleges
Program duration: Not mentioned  
Subject of fellowship: Not mentioned  
Deadline of application submission: August 21, 2022
Fellowship Award Value: Not mentioned  
Interested candidates are requested to fill up the application given the mentioned website in the circular following the rules.
You may visit URQUERY SCHOLARSHIP for much more information regarding admission.
For further information please visit the Official Website or see the published circular: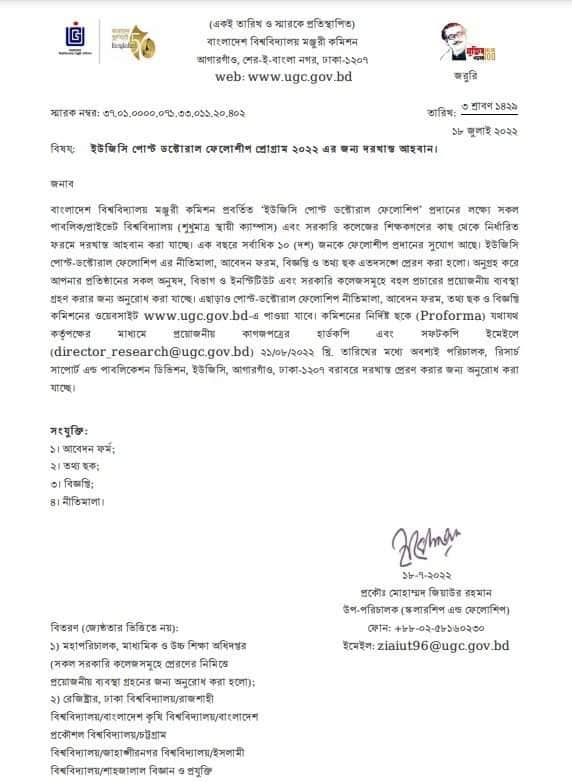 The Department of Financial Institutions under Ministry of Finance is inviting applications from genuine Bangladeshi nationals for a 2 year Masters Program in Actuarial Science and Actuarial Management.
Field of scholarship:
2 years Masters Program in,
Actuarial Science and 
Actuarial Management
Qualification for the scholarship:
1. Must have unconditional offer letter (full time) from Cass Business School (now The Business School) of City University of London for the expected degree
2. Age limit: Maximum 40 years on 30-06-2022
3. In the case of a government official, the applicant must have a permanent job and have completed a master's degree abroad after entering the job, will not be considered for this program;
4. The applicant should have a Bachelor (4 Year Term) / Masters Degree in (a) Mathematics (b) Applied Mathematics (c) Statistics and (d) Applied Statistics. In case of Bachelor / Masters degree completed abroad, equivalent certificate by UGC must be submitted. Otherwise a certificate of Bachelor / Masters degree completed from abroad will not be considered for evaluation in the scholarship program;
5. Candidates who have previously received any full scholarship / fellowship from government / private / international will not be considered for this scholarship;
6. In case of educational qualification, applicants must have at least 3 first divisions / classes / equivalent or CGPA minimum 3.50 (in case of scale 4.00) and CGPA minimum 4.5 (in case of scale 5.00) or 75% Or above and no third class / class or equivalent  from any Board / University will be acceptable in any examination;
7. Those who have experience in Computer, Word, Windows, Excel, Access, PowerPoint, Email, Internet Browsing, has published research articles in local / foreign journals and preference will be given to married candidates who have no more than 2 children;
Application deadline: June 30, 2022
List publishing: Not mentioned 
Interested students are requested to apply with recent of passport size photographs (3 copies), all certificates of educational qualification, attested copy of exam mark sheet / grade point sheet, NID card, passport, copy of test results of TOEFL, IELTS (Academic) examination to the address mentioned in the circular.
For more Scholarship for Bangladeshi Students, you may visit URQUERY SCHOLARSHIP
For further clarification you may visit the Website of the Ministry or the circular from the daily Prothom Alo: